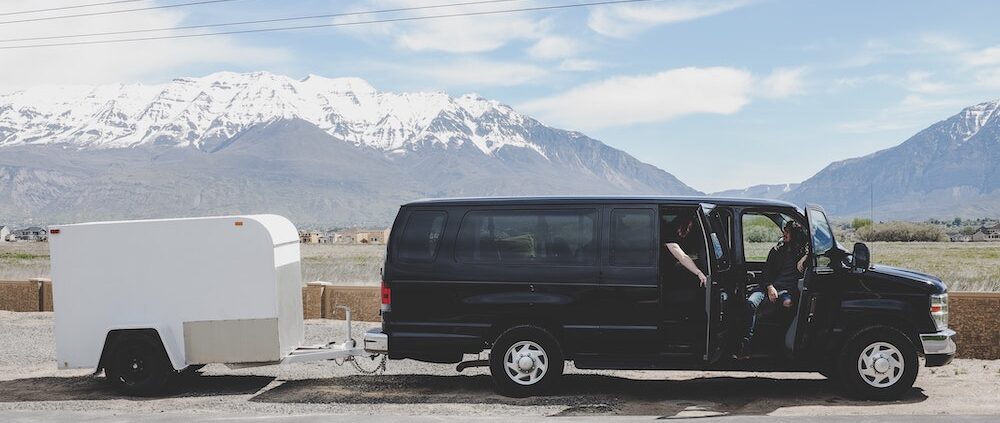 Photo by Kenny Eliason on Unsplash
Need a band van hire for your upcoming tour in the USA? Here are some of our favourite companies to rent from.
Some things to note:
Liability insurance is compulsory when driving in America. This is included in some USA residents motor insurance, but it might not cover vans used for commercial work. If you don't have this insurance you'll need to take out the companies policy, so make sure the company you are using can provide this
If you need to tow a trailer, be aware that not all van rental companies will cover towing under their insurance
For tips on touring in the USA, check out our blog post Quick Tips For Touring In The USA
North America
Bandago is on of the best van providers for touring musicians in North America. They have 13 locations in the United States, which is a life saver if you have problems with the van (breakdown, chip in the windshield etc) you're never too far from an office where they can get you a replacement van.
They have 12 passenger Mercedes Sprinter splitter vans and 15 passenger Ford Transits available. Vans can be fitted with a tow hitch for an additional $10 / day, and Bandago can also provide liability insurance for international drivers.
Green Vans have locations in Philadelphia, Los Angeles and service the Boston & NYC areas including all major airports via delivery.
They have a selection of 15 seat vans (without cargo space) and can be fitted with a tow hitch. They're great value for money and come out cheaper for a longer tour than companies like Bandago.
U-Haul has hundreds of offices around North America. In our opinion you can't go wrong with U-Haul if you're renting a trailer for your tour (about $20 USD / day). They also rent cargo vans.
If you are towing with U-Haul, you may need to purchase a pad lock and a light adapter for the brakes / indicator lights on the trailer. Ask your van rental company if they have any spare light adapters and padlocks for U-Haul trailers. They often have spares and could save you $40 (cost of new parts from U-Haul)
Turo is the worlds largest car sharing marketplace (peer to peer rental). You can find great deals on vans here that will be cheaper that the usual suspects, and Turo also can provide lability insurance for your drivers.
Captain Morgan Touring (New York / Los Angeles)
Captain Morgan Touring supplies backline and vans (15 seater) in New York and Los Angeles. Ben (owner) is awesome and helpful, and can probably do you a better deal than the major players, so worth giving him a call!
Alamo are good for fly shows when you need to pick up and drop off at an airport. They rent 15 passenger vans, and 7 passenger minivans and can provide liability insurance.
West Coast (California)
Sprinter Rentals (Los Angeles)
Sprinter Rentals in Los Angeles can provide 12 and 15 seat Mercedes Sprinter and Cargo vans.
Slate Van Rental (Los Angeles / Las Vegas)
Slate Van Rental has locations in Los Angeles and Las Vegas. They offer 8, 12, and 15 person passenger vans as well as cargo vans.
Van Rental Center (Los Angeles)
VRC has 8, 11, 12, and 15 passenger and cargo vans available for hire from their offices in Los Angeles. They have weekly and monthly rental prices available on their website.
Los Angeles Van Rentals (Los Angeles)
Los Angeles Van Rentals have Mercedes Sprinters and 8, 12, and 15 passenger vans available for rent.
East Coast (New York)
VTI Van Rentals (Brooklyn, NYC)
VTI have a selection of vans and SUV's available for hire. They do not support towing.
Sprinter Van Rental NYC (Queens / Manhattan, NYC)
15 Passenger and Mercedes Sprinter vans available for rent in Queens and Manhattan.
Hopefully this gives you some ideas on your next band van hire in the USA! Drop a comment if we've missed any of your favourite companies.
https://chuckwalla.co.uk/wp-content/uploads/2022/05/chuckwalla-london-splitter-van-touring.jpg
431
1000
Chuckwalla Touring
http://chuckwalla.co.uk/wp-content/uploads/2020/03/Chuckwalla_square_W_340x156-300x138.png
Chuckwalla Touring
2022-03-24 22:56:58
2022-06-01 22:40:34
Band Van Hire for Tour in the USA